All MLAs from ACT Labor and the ACT Greens have signed a Parliamentary and Governing Agreement for the 10th Legislative Assembly, agreeing to work constructively and collaboratively to govern in the best interests of ACT residents.
Over the two previous terms, ACT Labor and the ACT Greens have demonstrated that we can work together in government to deliver the most progressive and reformist administration in Australia.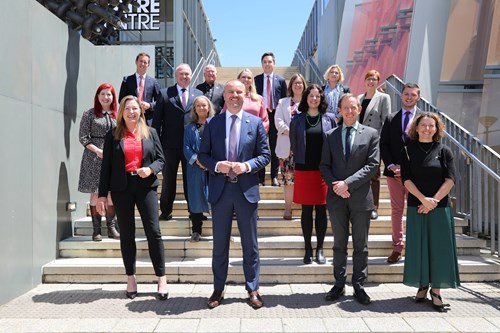 This new Agreement will further this work, as we look to address the major social, economic and environmental challenges our city will face over the next four years.
You can read the new agreement here.
Both parties will focus on the fundamental challenges and opportunities facing Canberra as we emerge from a global health and economic crisis. This includes:
sustainable economic development
protection and creation of secure local jobs
a healthy natural environment
closing the gap for First Nations people
a rapid transition to zero net emissions while protecting households
reducing inequality and poverty and providing dignified housing to more Canberrans
Governance with integrity and transparency
The Agreement will ensure a stable Territory Government in the ACT, that benefits from the distinct but collaborative approaches of two different political parties.
Right now, Canberrans need a strong and effective Government.
This Agreement will ensure that the ACT Government remains focused on our collective priorities and is able to deliver the services and policies Canberrans expect from the Government they elected.
This Agreement reflects open, transparent and accountable government.
The Canberra community will be able to clearly understand what we are working to achieve, how we plan to work together to meet these ambitious goals, and judge us on our performance through regular updates.
In particular, this Agreement demonstrates that ACT Labor and the ACT Greens recognise that climate change poses a real and immediate threat to our city.
The ACT Government will continue building on our achievement of 100% renewable electricity by taking the next steps necessary to reduce our city's greenhouse gas emissions, and show other jurisdictions what is possible to achieve in a short period of time, while supporting all Canberra households through the necessary transition.