Light rail is changing how we move around Canberra.
We are planning, designing, constructing and operating Canberra's light rail network over the next 20 years.
ACT Labor is delivering Canberra's light rail network
ACT Labor took Canberra's light rail network to two elections and Canberrans voted to build light rail.
Stage 1 connects Gungahlin to Civic, delivering high quality, reliable and frequent public transport along one of Canberra's busiest routes.
Stage one is a success – user numbers have already surpassed the 2021 target, and 15,000 passengers a day are using light rail.
It was also by far the biggest construction project the ACT Government has ever completed.
Stage two will connect Civic to Woden, through the Parliamentary Triangle. This will create a north-south spine for our city, bringing the benefits of light rail south of Lake Burley Griffin.
Our city is growing and that's why we are building a better transport network to keep Canberra moving.
Why is light rail important for Canberra?
ACT Labor has led the debate on light rail in Canberra for years because we believe in high quality public transport to keep Canberra moving as our city grows.
We don't want Canberra to experience the congestion of Sydney or Melbourne – we want the Canberra we all love to be even better.
As a result, ACT Labor will:
build light rail stage 2a, from Civic to Commonwealth Park, and then stage 2b, linking through the Parliamentary Triangle to Woden;
deliver a stage of light rail every decade;
bring jobs to Canberra through the construction of each stage of light rail; and
develop Canberra's growth around major transport corridors, including the light rail network.
The success of light rail demonstrates ACT Labor's capability and competence to deliver the big infrastructure that will help all Canberrans get around the city they love.
Light rail stage 2 – Civic to Woden
We're getting on with the job of extending light rail south to Woden. This was a key ACT Labor election commitment in 2016.
Stage 2A will extend light rail to Commonwealth Park.
By starting the work on stage 2A now we are capitalising on the expertise developed through the stage one.
The project includes:
3 new stations, with stops at City West, City South and Commonwealth Park
4 new light rail vehicles
power supply and transmission, with 100% renewable energy being used to power operations.
traffic signalling, road improvements and tree plantings
Stage 2B will connect Commonwealth Park to Woden, going across Lake Burley Griffin, and through the Parliamentary Triangle.
Light rail stage 2 will improve public transport options for many southsiders.
By linking it to stage 1, we're starting to build the wider network, which will connect all major centres of Canberra.
Light rail stage 2 will rejuvenate Woden Town Centre.
Major developments are already starting because of the expected demand coming from light rail.
Canberra's light rail network is a fantastic catalyst for urban renewal and it will bring new life to Canberra's south.
We are working with the Federal Government on planning processes, and we will ensure light rail stage 2 is accessible to all.
Canberra's full light rail network
ACT Labor is committed to ongoing investment in our public transport network including light rail for Canberra.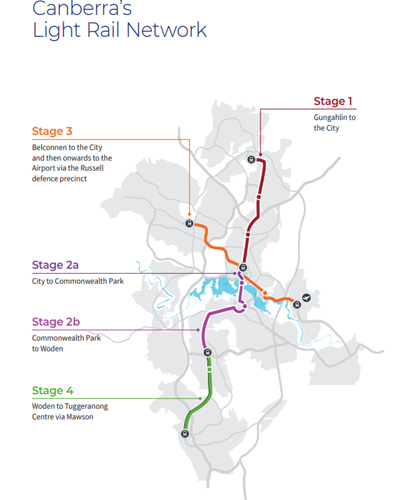 Light rail will connect all major town centres and employment hubs across our city, reducing congestion and helping people get around our city.
The full light rail network will include:
Stage 1 – Gungahlin to Civic (completed)
Stage 2 – Civic to Woden (underway)
Stage 3 – Belconnen to Civic, then onwards to the Airport via the Russel defence precinct
Stage 4 – Woden to Tuggeranong Centre via Mawson